Shotgun Custom Work
Wilson Combat shotguns are the choice of federal agencies, police departments and other professionals who use shotguns as defensive tools. We have a variety of customization options available to upgrade your Remington 870 12 gauge shotgun.
As Wilson Combat is a true custom shop, some options may be available that are not listed in our Custom Gunsmithing rates. Please contact us for more information.
Buy or Build
If you looking to buy or custom build a new gun, and not customize an existing one, please visit our Custom Firearm Ordering page to get all the information you need.
---
Custom Shotgun Parts
We have developed and manufactured a large collection of Wilson Combat custom parts for yor Remington 870, 1100 or 1170 shotgun that will improve it's performance. You can find these parts in our store.
---
Customize Your Existing Shotgun
Our shotgun customization options allows for a variety of upgrades, parts, and finishes that can be applied to most Remington 870 12 gauge models. Please contact us via our contact page for more information.
We can convert customer supplied Remington 870's to some of our Wilson Combat exclusive models: Professional, Standard, Border Patrol and CQB. Check out an example of a customer supplied shotgun that was converted and upgraded to a CQB shotgun in the gallery below.
When you are ready to send in your gun for cusomtization, please complete the form below. Make a copy for yourself and send a copy enclosed with your firearm when you ship it.
NOTE: Old buttstock and foregrip will not be returned if replaced as part custom work.
---
The Remington® Steal Package
The Remington® Steal Package gives you the opportunity to refurbish your already-owned 870 shotgun to like new condition!
We replace all worn and/or damaged parts including the buttstock and fore-end, convert your chamber to 3", convert to flexi-tab anti-jam system, install a new magazine spring and follower, replace safety with a jumbo head, replace trigger assembly with a professionally remanufactured trigger unit, and parkerize your complete shotgun.
You can see the dramatic transformation a customer supplied shotgun underwent during its Remington® Steal Package work in the gallery below.
NOTE: Old buttstock and foregrip will not be returned if replaced as part custom work.
---
All
Remington Steal Before
Remington Steal After
CQB Conversion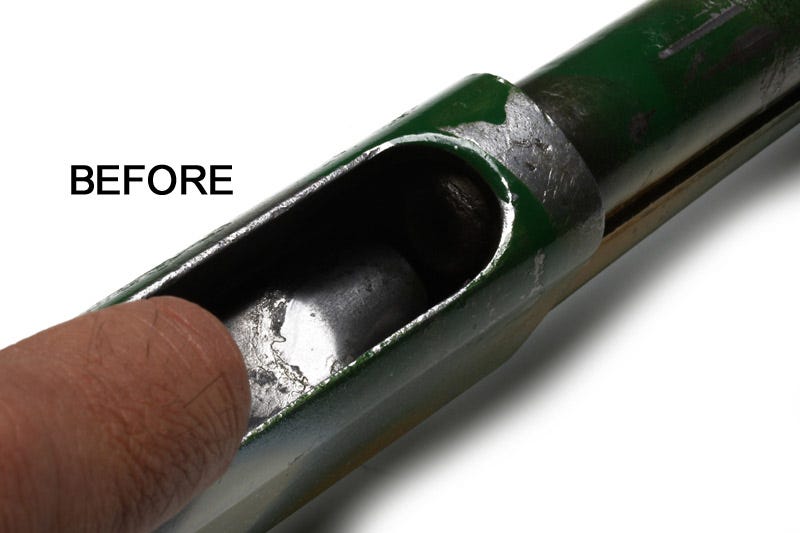 ---
Custom Work Terms and Conditions
You must obtain an RMA and shipping label from Customer Service BEFORE sending in your firearm. Please call 800-955-4856.
We will not work on firearms that have been previously modified by anyone other than the Wilson Combat Custom Shop.
We only work on Remington 870, 12 Gauge models.
Any and all work performed is up to the discretion of the Custom Shop Manager.
Please do not send items not necessary for custom work. Example: Gun rugs or cases, accessories, etc.
All weapons left in care of the shop are done so at your own risk.
Due to federal regulations, customers' firearms must be returned to the address from which they were received. If you have a change of address, written request for such change is required.
If your firearm is shipped from an FFL dealer, it must be returned to the same FFL dealer.
Minimum Custom Work order is $100. If work requested is under this amount, the invoice will be adjusted accordingly.
If your firearm is being customized in a way that includes machining or mill work then you are required to purchase a refinish.
Quoted lead times on custom work are approximations. We do our best to adhere to time frames but with all true firearm customizations, these times can vary. Please be patient while your custom work is completed as we are working diligently.
Custom Work Shipping Information
To send your firearm to Wilson Combat for Custom Work, you must first call Customer Service at 800-955-4856 to obtain an RMA # and Return Label. Firearms will not be accepted for Custom Work without the proper RMA and label.